"Through The Gateway" - 5-color, Blacklight Reflective Screen-print on Shine Onyx, Shimmer Metallic Cover.
'Through The Gateway' explores a recurring theme in my work that illustrates the ancient knowledge that the underlying force driving the universe is a combination of dynamic opposites existing in perfect harmony. In Hindu art and mythology, the Goddess 'Kali the Destroyer' represents both the mother and the grave and stands as a symbol of time itself, as the physical world is constantly changing around us. 
Screen-printed with 'Day-glo' inks for a psychedelic neon effect when viewed under blacklight.
When creating my initial sketch for this piece, I first posed a 3D model of my basic female figure as a reference for the anatomy and lighting.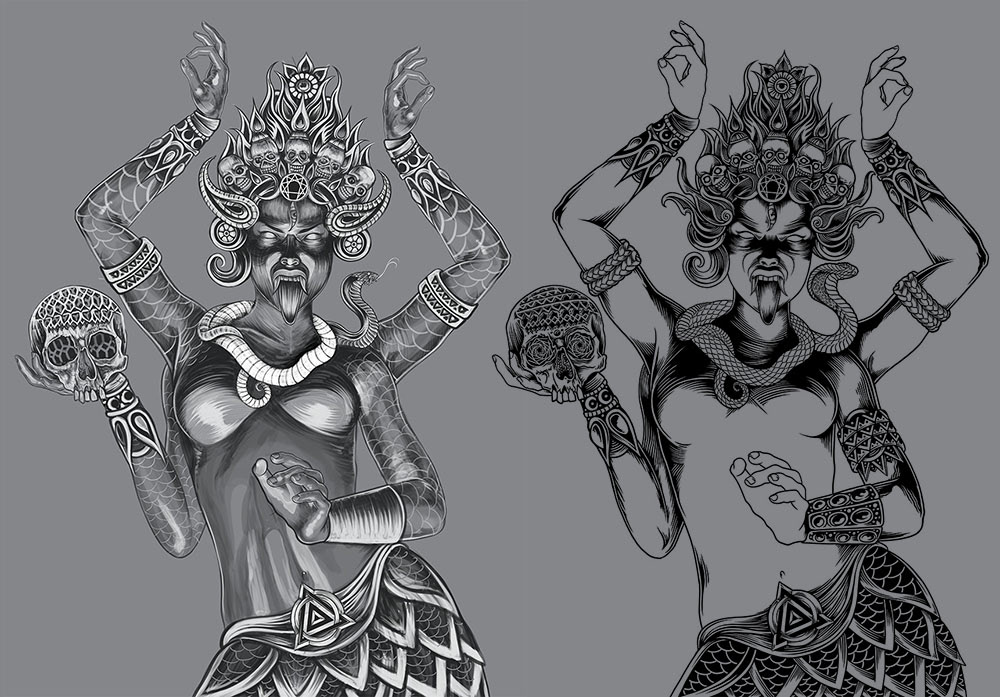 This artwork was created for and featured in '
The Devil's Reign
' group exhibit & book release at Howl Gallery/Tattoo. 
- Curated by Peter H. Gilmore, High Priest of the Church of Satan.
Purchase the book
 featuring a collection demon artwork, inspired by the mytholgies of various cultures across the globe, created by: Andy Howl, Chris Reed, Derek Hess, Derek Noble, Florian Bertmer, Jeff Srsic, jondix, Pooch, Seldon Hunt, Shaun Beaudry, Skot Olsen, Timothy Hoyer, Zack Spurlock and many more.